Property owners have been leveraging PACE (Property Assessed Clean Energy) loan programs to fund the cost of energy improvements on commercial, industrial and residential properties. Specifically, PACE financing programs enable local governments to provide financing for energy efficiency, renewable energy and water efficiency projects that building owners pay back through property tax assessments. While PACE programs are active and operating in 20 U.S. states plus the District of Columbia, residential PACE loan programs are only offered in a limited number of states. We will explore what states are leading the residential PACE financing program and – more importantly – why…
What States are Embracing Residential PACE?
Residential PACE loan programs are enacted in three states, California, Florida and Missouri. Predominantly only California and Florida have embraced PACE financing for private residences. Since 2014, homeowners from these two states alone account for almost 300,000 PACE loans, primarily to finance the purchase and installation of solar energy systems. Reviewing the initial years of program data by state, the pace of lending was almost identical with loans in both California and Florida peaking in 2017. While both states saw a decrease in PACE loan activity in 2018, the fall-off was much more drastic in California and continued to fall through the first three quarters of 2019 while Florida numbers began to recover, according to data from First American DataTree®.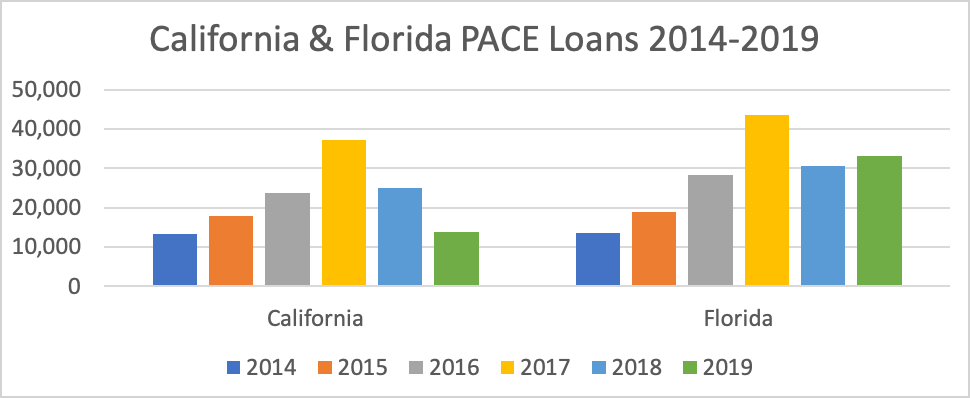 Source: DataTree by First American
State Legislation & Potential Impacts
What is causing the loan decline in California? Well, it might be new state regulations…. In general, PACE loans have been easier to qualify for than traditional mortgages or home equity lines of credit (HELOC) and are based largely on the property equity – not the borrower credit profile. These loans are repaid through property taxes, and in some cases supersede the homeowner's mortgage payment which can expose lenders and servicers to additional loan risk. Defaulting on mortgage, HELOC and/or PACE loan payments can all lead to risk of foreclosure for the borrower.
To minimize consumer risk, California passed two laws in 2017 – California Assembly Bill 1284 and California Senate Bill 242 – requiring PACE lenders to consider the borrower income and ability to repay in addition to mandating contractor training and barring kickbacks. The legislation is also intended to provide borrowers with a complete view of associated PACE loan costs (such as interest rates and payments) – as well as unique loan aspects (for example, if the house is sold, the loan transfers to the new property owner, not the borrower).
While Florida state legislature is considering similar consumer protection legislation, it is seeking to expand the PACE loan program for seawall replacement and septic tank to sewer system conversions – both important considerations as sea levels rise, according to a recent story in the Miami Herald. The article also suggests that most Floridians are meeting their PACE loan payments. In Miami-Dade, only about 1% of homeowners with PACE loans have fallen behind on their taxes, as reported by the tax collector's office.
PACE loans can be an advantageous, viable option for property owners for energy-efficient improvements; however, it is important for borrowers to understand state program details and legislation surrounding this long-term commitment.
PACE Loan Intelligence Data to Power Your Business
DataTree by First American enables lenders and servicers to identify PACE lien properties and mitigate risk with the industry's most comprehensive PACE Lien intelligence data. From loan origination properties, type of improvements, loan amounts and overall market data, lenders rely on DataTree to drive their business forward. Contact us to target properties for clean energy upgrades and financing, locate borrowers and get more accurate CLTV (combined loan-to-value) calculations. Find out more at https://www.datatree.com/pace-loan-data.