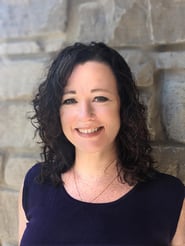 We are thrilled to share that Senior Director of Product Management, Mortgage Analytics, Jennifer Menard, has been chosen as a winner of this year's HousingWire 2021 Tech Trendsetters, an award honoring the most impactful and innovative technology leaders in the housing economy.
HousingWire's 2021 Tech Trendsetters award recognized 50 product and technology leaders who have been indispensable in bringing innovative tech solutions to market for housing industry clients.
An expert in fraud and compliance technology, Jennifer has been responsible for the strategy, launch and wide-spread adoption of several cutting-edge solutions for the mortgage industry. This year, Jennifer's leadership and expertise was critical in the launch of the First American AppIntelligence Score™, a powerful new fraud pattern-recognition scoring model.
Jennifer and her team analyzed hundreds of thousands of loan findings to develop this highly accurate model, that enables high-volume lenders and investors to more precisely identify the risk of fraud and early payment default on both new mortgage applications or a portfolio. The end result of those efforts is a truer picture of where fraud and early payment default risk are likely to occur. The AppIntelligence Score uses the company's proprietary predictive fraud indices, employing both natural and artificial intelligence, as well as machine learning technologies. It simultaneously runs proprietary sub-models for risk, including synthetic identity, income, employment, early payment default (EPD), undisclosed debt and loan participant risk review.

"Jennifer's recognition as a 2021 HousingWire Tech Trendsetter is extremely well deserved," said Robert Karraa, president of First American Data & Analytics. "Jennifer brings over 18 years of experience in mortgage origination and specifically mortgage fraud. Her deep understanding of customer needs matched with her strong product development skills have been critical to the launch of industry-leading solutions our financial services clients have come to expect from First American Data & Analytics."

"This year's list of Tech Trendsetters have, yet again, proven to be the driving force behind the digital transformation in housing," said HousingWire Editor and Chief Sarah Wheeler. "This impressive list of honorees are finding solutions to some of the industry's toughest challenges from improving the borrower's journey to streamlining every step of the real estate transaction process."

Recipients of the HousingWire Tech Trendsetters award were peer-nominated and selected by HousingWire's editorial board based on their accomplishments over the last 12 months.